Landscape Services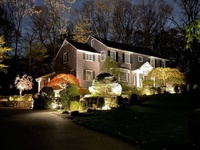 At JBS Landscaping, we offer individualized and unique landscape design and construction services suited to your needs and budget. We are a well-known business in the region, serving businesses and individuals for many years. Our team employs cutting-edge technology and the most advanced installation techniques to create stunning landscapes on our clients' properties. We provide comprehensive landscaping services, from lawn and tree maintenance to shrub care. We are the local landscapers to call if you want precise, high-quality landscape planning and installation services. As one of the most sought-after and reputable names in the industry, we have long served business and residential clients in the area. Our professional approach enables us to maintain healthier plantings and gorgeous flowers and grass on our clients' properties. We offer the most effective methods to ensure that your landscapes are attractive, healthy, and sustainable. Our tailored approach and dedication ensure that you will be happy with our solutions.



Outdoor Living Areas
Contact us now if you're searching for a business that can design and build magnificent outdoor living spaces. We create various outdoor living spaces that you will enjoy spending time in and will be pleased with for their great visual appeal and longevity. When we design outdoor living spaces, we consider the climate, which is why we provide enclosures that offer good protection from the elements such as sun, wind, snow, and rain. Furthermore, we are interested in the aesthetics of these features and their usefulness and longevity. Our designers and installers routinely produce impressive structures that attract attention and endure for decades. Additionally, we design and build paver driveways and pathways, as well as fireplaces and fire pits. As a full-service landscaping company, we make it easy for you to access all these services under one roof. Read More About Outdoor Living Areas >>



Outdoor Kitchens
An open patio is an excellent addition to any home, as it expands the indoor living area, adding a unique look to your home. Additionally, you can utilize this spot to spend time with your friends and family. This space is ideal for cooking and socializing; if you plan it well, the kitchen can become the perfect leisure zone in your home. Our competent professionals can design and plan excellent outdoor kitchens and other hardscaping elements in your backyard. These will be made to match the architectural details of your home. We build aesthetically pleasing outdoor kitchens while keeping in mind that they must also be helpful. We use our ingenuity, resource expertise, and modern installation methods to design and build outdoor spaces that are both beautiful and functional, increasing the value of your house. We not only provide first-rate service, but we also guarantee a swift conclusion of the project so that you may enjoy your beautiful new outdoor kitchen as soon as possible. Read More About Outdoor Kitchens >>



Paver Patios
We provide outstanding paver patio construction and manage the entire process, from design to construction. Pavers are exceptionally resilient and adaptable to fluctuating weather conditions. Unlike poured concrete, these units do not deteriorate with time, making them excellent for patios and high-traffic zones such as walkways and stairs on your property. We work with you to grasp your concepts for your paver patios and present you with superior layouts and designs. Because of our knowledge and skill, you can trust us to create and build aesthetically attractive, resilient paver patios. We use premium quality materials in these installations, so they will endure a long time while complementing your landscape. Customization is crucial to us, and we strive to provide consumers with cost-effective services. Depending on your preferences, our team can install a patio in a newly constructed or existing backyard. No matter your requirements, we can help with the best paver patio within your specified budget. Read More About Paver Patios >>



Landscape Lighting
Numerous factors contribute to creating remarkable landscapes, one of which is outdoor lighting. It is a critical aspect that most property owners ignore, considerably diminishing the usefulness of the lovely landscapes they have built. You cannot create a spectacular effect by merely lighting the exterior walls of your home. Numerous landscaping components can be employed to enhance the ambiance. While lighting accentuates the most significant characteristics of your landscaping, it also serves to complement the design of your home. We provide outstanding outdoor lighting solutions to our clients. As seasoned planners and installers, we know how to strategically position the appropriate type of lighting to create the ideal outdoor lighting effects. We are devoted to providing high-quality services quickly and dependably, and you can rely on us for all your landscape lighting needs. We approach all outdoor lighting projects, large and small, with the same degree of knowledge and attention. Read More About Landscape Lighting >>



Property Management
Proper property management is critical for plants and lawn health. We undertake mulch and planting installations as part of our property management service. Our professionals collaborate with you to gain a deeper understanding of your goals and requirements. We propose the highest-quality materials and components, so you know exactly what we're using for your project. Additionally, we offer spring and fall cleanups to maintain the quality of all your outdoor spaces. We also provide storm cleanup services as necessary. During this service, our experienced crew will remove all debris from your property, remove leaves, and ensure that your planters and flower beds are free of twigs and stray leaves. We work systematically, which helps maintain your landscape's appearance and health. Our company has the skills, expertise, and knowledge to handle all your property management requirements to industry standards and within your budget, so you get value for money every time you hire us. Read More About Property Management >>



Hardscaping
We are the local hardscaping company that offers a wide range of installations, including paver patios, decks, driveways, walkways, retaining walls, and more. While creating hardscape designs for your property, our team of specialists will also consider the architectural design of the structures on your land. We hire concreting professionals, stonemasons, retaining wall builders, and paver installers that will go above and beyond to guarantee that you have a beautiful and long-lasting property feature. Our crew is highly competent and familiar with the current trends in hardscaping. When we create a feature for your home, we ensure that all elements are low maintenance, which reduces the long-term cost of ownership. Additionally, we employ high-quality materials to guarantee that your feature is well-finished and sturdy. We are one of the few companies in our business that maintain exacting quality at affordable pricing. We are committed to providing clients with customized hardscaping solutions that meet their needs. Read More About Hardscaping >>



Landscape Design
The bulk of residential and business landscapes need meticulous design and detailing. To obtain excellent results, you must use trained professionals like us to design and develop your landscape. We have years of experience in the area and take a thorough approach to each client's project. Our company's objective is to serve our clients with the highest-quality services available while maintaining cost-effectiveness. We can help you design and construct a modest residential garden or plan and design a whole business outdoor environment landscape from start to end. Furthermore, we design and build retaining walls, paved areas, water features, brickwork, and beautiful rock structures. This service comprises the installation of proper outdoor lighting, flower gardens, and garden steps. In general, our originality and ability contribute to your property's beautiful appearance. We place a premium on quality, dependability, and economy. It guarantees that every time our clients employ us for large or small landscaping projects, they receive outstanding value. Read More About Landscape Design >>



Lawn Maintenance and Installation
Each property owner has widely varying requirements for lawn upkeep. As a result, we provide several lawn care options to suit various economic needs. We never cut corners on quality, regardless of the lawn care plan you choose. We approach one-time services in the same manner we do contract projects: expeditiously and thoroughly. Consistent lawn management is critical for achieving exceptional results, as we know from our extensive expertise. Our goal is to learn about your landscape's unique requirements to design custom plans that meet your exact specifications. Our lawn care services are available weekly, monthly, quarterly, or annual basis. We'll do the job correctly the first time, and that is our guarantee. Additionally, we handle lawn installations, which involve the application of grass and straw to produce a healthy, lush lawn. We provide you with the information you need regarding the different types of grasses for the best impact. Read More About Lawn Maintenance and Installation >>



Water Features
If you're looking for creative and long-lasting water elements, we're your go-to hardscapers. Our considerable industry knowledge enables us to design personalized water features that fit the demands and style of your environment. We create and install pondless Koi and Decorative Ponds Waterfalls, Streams, Custom Fountains, Colored Fountains, and Colored Waterfalls Along with traditional fountains and waterfalls. Our team also creates waterscapes with many features such as streams and ponds. Our professionals meticulously prepare every detail of your custom water feature to ensure that it merges seamlessly with the elegance of your environment. Additionally, we guide material selection and style, guaranteeing that the finished product is nothing short of a piece of art. Our ingenuity and industry knowledge goes a long way toward ensuring that our clients have the most incredible water features in their home and business environments. We offer a complete water feature design, planning, and installation service under a single roof. Our company provides the highest quality services at the most affordable prices. Read More About Water Features >>



Small Site Excavation
Most residential properties benefit from functional space additions to a home. You can accomplish this by removing huge obtrusive boulders, overgrown bushes, and anything else impeding you from having the backyard of your dreams. This is precisely where our services for small site excavation come in handy, and it is one of the most economical services we provide. You will instantly profit from the added functionality of the space, as well as the long-term benefits of improved property value. We have the tools and skills necessary to transform an often unattractive and useless place into an entirely new spot that blends seamlessly into your current environment. Whether you want to expand your lawn area for your children to play or re-grade your property to address drainage difficulties, we have a solution for you. Our crew will thoroughly inspect the area and carefully excavate the site; you will have a well-graded, secure foundation for the new structures you will install. Read More About Small Site Excavation >>



Winter Services
Snow plowing services are available for home driveways, business parking lots, lanes, and roadways, and we maintain competitive pricing. Regardless of your preference, our team will develop a solution that meets both your demands and your budget. While salting your property, we use various solutions based on your specific requirements. Shoveling is a routine service included with snow plowing for residential driveways. It entails clearing snow off from the driveway and the front of garage doors. Additionally, we will shovel your walkway to ensure that entering and exiting your property is as simple as possible. We provide snow staking to help in preventing damage to your property during the snow removal service. Our four-color approach aides our drivers in recognizing their surroundings. The crew works all hours of the day and night to ensure the safety of your parking lot, road, or driveway throughout the winter months. Read More About Winter Services >>



Hardscape Restoration
Each hardscape repair job is distinctive. Depending on the scope of your existing project, we take the required measures to restore your hardscape features. JB's landscaping services include the restoration of paver hardscapes and concrete patios and slabs, natural stone, and brick. We will propose one or more of the following restoration techniques following a site inspection to guarantee your home's hardscape pieces are brought back to life. We fix uneven paver stones, install/replace edge restraints, and clean pavers as part of our hardscaping services. We also apply polymeric sand in joints to support and secure the paver pieces. In addition, we seal coat paved surfaces, which is the last step in the restoration project. Read More About Hardscape Restoration >>



Parking Lot Revival & Line Painting
Whether your parking lot has suffered years of wear and tear or was installed just last season, let JB's Landscaping preserve your parking lot before things get worse. By utilizing any of the following preventive measures you can extend the life of your parking lot indefinitely. Read More About Parking Lot Revival & Line Painting >>



Forestry Mulching
We can remove trees, shrubs, and other types of vegetation with our forest mulching machines. Our goal is restoring the ecosystem's health by removing small trees and underbrush from an overgrown patch of forest while maintaining the more desirable trees and plants. We have all the tools needed and our heavy duty equipment is operated by well-trained crews, so you are assured that the job will be performed efficiently. They will also ensure safety in the work area. Read More About Forestry Mulching >>


When you hire us for any of these services, you are sure that you will get top-quality services within your budget. We are committed to providing our clients with value and work closely with them to meet their needs. Whether you need us to design your landscape from scratch or want a few outdoor features added, we can help. We offer efficient and timely landscape installation services that provide you with an excellent return on investment. Our focus on customization and personalization helps ensure that you are satisfied with our services and get functional and aesthetically appealing features for your property. Contact the knowledgeable team at JBS Landscape for more information, and we will be happy to help. You can also send us your requirements through this Online Form, and we will call you back soon to better understand your project requirements and preferences.