Paver Patios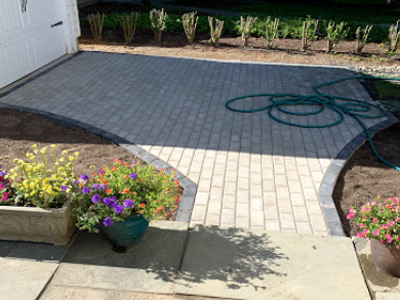 Nowadays, homeowners are eager to create a haven in their home gardens. Creating functional, appealing, and sustainable outdoor spaces involves working with a reliable hardscaping company. JB'S Landscaping is committed to offering property owners in Warren and Morris Counties, New Jersey, and the surrounding areas superior hardscaping services.


Paver Patio Design and Installation
We are here to help you in every way possible to create a pleasant outdoor space in your backyard for you and your family to enjoy. We can also help commercial clients with custom paver patio installations. Since we are qualified professional landscapers, we are ready to handle any size or type of landscaping project.

Our team will manage all project parts, from conception to execution to quality control. Therefore, you can depend on us to design and build beautiful hardscaping for your home, including appealing paver patios.


Aspects of Paver Patio Installations
You need to consider various aspects when constructing a paver patio on your property. As soon as you step into your patio, you can enjoy your experience in the yard, as your paver patio becomes the highlight of your outdoor living zone. We invest a lot of effort and creativity in its design and planning. Some things we focus on include:


Creating an initial layout for the dimensions of your new patio. Understanding many individuals are expected to use this space


It might be beneficial to consider recent or impending purchases of outdoor furniture.


We help you choose the patio size that best accommodates your furniture and activity requirements.


Next, we help you develop a layout that includes the shape of the patio.


If all of the corners are straight, do you prefer curved endpoints?


Will you need steps or walkways leading into the yard from your patio?


We recommend that you opt for complementing paver materials and colors to keep your current outdoor features and personal style consistent.


Since there are many variables in play and aspects to consider, our team of specialists will be there to advise you and provide input.


Customized Paver Patio Solutions
We aim to exceed your expectations when we handle your paver patio project. The initial phase of the process consists of a comprehensive consultation with our expert design team. With the information gathered during this discussion, they can make recommendations and advise on the construction of outdoor spaces that meet your demands and preferences. You can rely on us to offer crystal-clear communication and work of exceptional quality that surpasses your expectations.

By offering trustworthy, professional, cost-effective, and tailored services, we ensure our clients obtain a fantastic return on their investment. If you want paver patios or other hardscaping services, our team is available to help. We are proactive in our approach and ensure that clients get excellent value.

For additional details about our paver patios or other landscaping services, please write to JB'S Landscaping via this Contact Us form. You can also call us at 908-496-4755 for a free estimate, and we will get back to your shortly.