Landscape Company in Landing, NJ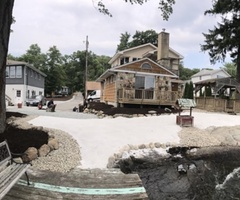 Your property's landscape is one of its most vital selling points. If the outdoor spaces of your home or business start to seem ordinary, now might be the ideal time to give them a makeover. Including one-of-a-kind features in your landscape is an excellent starting point.

However, for such jobs, you need the experience of a dependable company like JB'S Landscaping. We quickly meet the diverse demands of our individual and corporate clients in Landing, NJ, thanks to our years of experience in the industry.


Landscape Company
We are a full-service landscaping and hardscaping company that takes care of everything from lawns to trees to bushes. If you need professional landscapers in your area to help you plan and install your yard, you can count on us to do an excellent job every time. Over the years, we have earned a reputation as a go-to provider for both commercial and residential customers in Landing, NJ, because:


We can cater to your specific needs. Our team is confident that you will be satisfied with the services we provide because of how we customize them to meet your needs.
We follow industry standards for maintaining beautiful, thriving, and long-lasting landscapes.
With our expert care, our clients' plants thrive, and their lawns and gardens look beautiful all year long.
We use high-quality materials and products in our work
Our company covers all our work with guarantees
Landscape Lighting
When planning your landscape's other components, you should also focus on incorporating landscape lighting. The suitable outdoor lights help draw attention to the property's many unique characteristics while bolstering its security. Now could be the time to add lighting elements in and around your yard if you want to increase the attractiveness of your outdoor spaces and make them more inviting and aesthetically appealing.

The strategic placement of outdoor lighting across your landscape can highlight several preexisting design elements. Pathways and walkways illuminated by solar lights can help guide visitors to your front door. Landscape lighting can also create boundaries between different parts of your yard and indicate where your boundary line is. You can use outdoor lighting to draw attention to ponds, fountains, and trees. These features get an extra visual boost with the help of some well-placed lights. The use of landscape lighting has many advantages:


Improves the utility of your landscape after dark
Improves safety
Enhances aesthetics
Increases property value
Landscape Design
Most residential and commercial landscapes need careful planning and attention to detail. You need to hire skilled specialists like us to get excellent outcomes from your landscape design and development. Years of practice have taught us to treat every client's project with the care and attention it deserves. Our company's mission is to provide our customers with the best possible service at the most reasonable price. We can assist you in every step of creating a beautiful landscape, whether it be a modest backyard garden or a large commercial complex.

We also create stunning rock structures, water features, masonry, and paved areas, and the placement of outdoor lights, flowerbeds, and garden stairs is part of this service. We can bring out the most in your property via our unique ideas and skill sets. Quality, dependability, and cost-effectiveness are all factors we consider highly important. As a result, whether our clients choose us for a big or little landscaping job, we assure them that they will get excellent value for their money.

For more information on our landscape design and landscape lighting services in Landing, NJ, contact JB'S Landscaping at 908-496-4755 or via this Contact Us form. One of our experts will call you back soon to discuss your landscaping and outdoor lighting requirements.