Hardscaping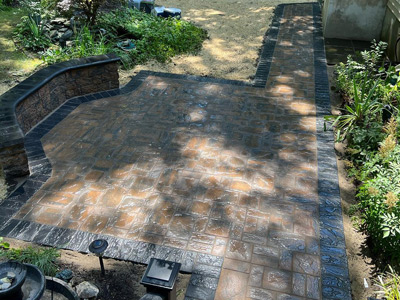 Long-lasting masonry is an essential factor in maintaining your outdoor spaces' durability. Pavers, natural stones, bricks, aggregates, marble, and concrete blocks are some of the many building materials used in landscaping. These materials are used to construct features such as patios, decks, retaining walls, fire, water, and more. In addition to using high-quality materials in all our projects, JB'S Landscaping offers clients in and around Warren and Morris County, NJ, personalized solutions based on their needs.


Range of Hardscaping Solutions
Hardscaping components serve as the foundation of all landscapes. How long your landscaping will survive depends on the materials used and the quality of the installation. Furthermore, valuable, and practical landscapes require proper landscape design and planning. Our comprehensive hardscape services include design and installation, and our expertise in this industry enables us to provide clients with high-quality solutions at an affordable price.


Hardscape Ideas and Plans
Before offering our proposals and ideas, we conduct extensive research on the client's requirements to ensure we have a comprehensive knowledge of their goals and vision. We ensure that our designs and plans meet your specifications. We can help you design your landscape from scratch or with upgrades such as a few masonry/natural stone accents.

Every project we design and construct for you will be sturdy and durable, and we will ensure that you obtain an exceptional return on your investment. We will inform you about the many materials, finishes and products on the market and recommend those that complement the overall design concept of your landscape. We design and construct beautiful outdoor spaces that complement the architectural elements of your house.


Top-Quality Hardscape Installations
As soon as you approve the designs and plans, the installation will commence. Before landscaping installation, we will excavate and grade the ground. Since we oversee every part of hardscape design and planning, we are aware of how crucial it is for outdoor spaces to have level ground.

Due to the suitable grading and retaining wall installations, there will be no water pooling in the outdoor areas. After site preparation is complete, the hardscaping, including the driveway, pathways, boundary walls, retaining walls, garden stairs, curbing, and edging, is constructed. We will also install patios and decks if they are included in the plans.

We always utilize the finest materials and tools available. All our work is guaranteed, so you can be confident that we will complete it the first time flawlessly.


Hardscaping Costs
The price of brick masonry, paver installations, and other hardscape elements can be affected by many factors. We are transparent in our approach and ensure that our clients clearly know materials, finishes, and pricing before we commence the project. There is a range of materials and costs connected with hardscaping projects, and our team is here to assist you in making a well-informed decision regarding the features and elements that best meet your needs. We will execute the hardscape construction on time and within budget constraints.

For additional details about our hardscaping services write to JB'S Landscaping using this Contact Us. You can also call us at 908-496-4755 for a free estimate. Our experts will revert shortly to discuss your requirements.