Hardscaping Services in Chester, NJ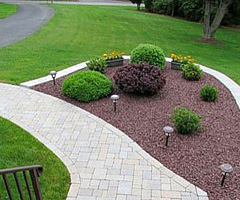 We at JB'S Landscaping are a proven operator in the landscaping space. Our team is skilled and experienced, and they work with you to provide high-quality installations within your budget. We ensure that the designs and layouts that we provide align with your requirements. Our company offers superior patios, retaining walls, and paver installations to residential and commercial clients in Chester, NJ.


Pavers
Most landscaped areas on properties see a considerable amount of wear and tear. Constant exposure to climatic changes, formation of mildew and moss, as well as exposure to the UV rays of the sun has a significant impact on your hardscapes and paver features. Besides, your walkways and driveways endure constant vehicular and foot traffic. Using pavers for outdoor areas is a great way to combat all these issues.


Spaces Where Pavers Can Be Installed
We prioritize offering clients superior-quality services. All jobs, regardless of scale, are completed using high-grade materials and the finest artistry. For most landscaping projects, our clients have opted to install paver patios in the following spaces:


Poolscapes
Garden steps
Driveways
Outdoor kitchens
Pathways
Decks
Patios
Porches
Walkways
Entranceways

The load is distributed over the base materials by these interlocking pavers. They offer an advantage over poured concrete surfaces in that they may move around with subtle movements in their foundation without cracking. If the base changes owing to loads, materials like asphalt and concrete are more prone to cracking. Temperature changes can cause cracks by inducing changes in pressure.


Patios
The first step to appreciating outdoor life is to enter the patio. We build it to blend in with your home's structure, so entering your garden is always a pleasant experience. We pay special attention to its design and layout from the outset because it will be the focal point of your alfresco space. In the paver patio project, we want to go beyond your expectations. The first stage in the process is having in-depth discussions with our experienced design consultant. They will take the time to get to know your preferences, needs, and budget before offering recommendations and advising on how to build outdoor areas that match your needs and interests.

We place high importance on honest communication throughout the process and the quality of the finished product. Our team will oversee the entire project, from design and implementation to project management and quality assurance. Consequently, you can rely on us to create beautiful hardscaping for your house, such as fantastic paver patios.


Retaining Walls
When creating a landscape design, a well-engineered segmented or stone retaining wall is an innovative and popular choice. Because you can alter the walls' general height and customization is possible, these structures are fantastic solutions to integrate into any business or home landscaping.

Our landscape contractors ensure the quality of the retaining walls because they look great and because they are highly durable. If you've been considering constructing a retaining wall on your private or commercial property, we can help. We offer the most up-to-date styles and materials, from concrete block retaining walls to stone, concrete, or timber retaining walls.

These walls can serve as an attractive landscaping feature while also sculpting your terrain to meet your demands. A robust retaining wall can help prevent soil erosion and provide a solid foundation for a well-built structure. We design and construct a variety of retaining walls, including:


Tiered Retaining Walls
Interlocking Block Retaining Walls
Natural Stone Retaining Walls
Seating/Sitting Walls

For more information on our pavers, patios, and retaining walls in Chester, NJ, get in touch with JB'S Landscaping via this Contact Us form or call us at 908-496-4755 for a free estimate, and we will get back to your shortly.