Hardscaping Services in Ledgewood, NJ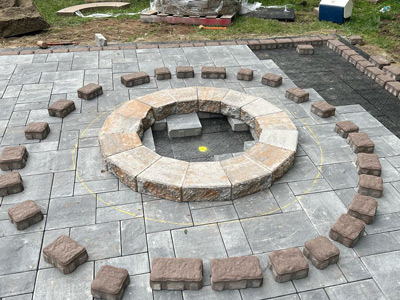 JB'S Landscaping is a reputable company in the hardscaping industry. Our crew is talented and qualified, and they collaborate with you to create budget-friendly, high-quality installations. We verify that the layouts and designs we supply correspond to your specifications. Our company provides outstanding installations of patios, retaining walls, and pavers to homeowners and businesses in Ledgewood, NJ.


Pavers
Most landscaped areas on properties experience severe wear and tear. Constant exposure to climate fluctuations, mildew and moss growth, and the sun's ultraviolet radiation considerably influence these characteristics. In addition, your pathways and driveways are subject to continual automotive and pedestrian activity. Using paver products for outdoor spaces is a fantastic solution to address these difficulties.

We focus on providing outstanding services to our clients. Regardless of the size of the project, we use only high-quality materials and the most outstanding craftsmanship. There are several benefits to opting for pavers in outdoor spaces, such as:
These interlocking pavers disperse the weight over the subbase materials.
They provide an advantage over rigid precast foundations because they can move with minor foundational adjustments without fracturing.
Materials such as concrete and asphalt are more likely to crack if the foundation shifts because of loads.
Temperature variations can induce cracks by causing changes in pressure
Pavers are available in various colors, shapes, sizes, and styles so you can create stunning outdoor spaces on your property.
Pavers are versatile and you can use them for various outdoor spaces such as:
Driveways
Walkways
Entranceways
Poolscapes
Garden steps
Outdoor kitchens
Pathways
Decks
Patios
Porches
We help our clients with paver selection and work with them to ensure that their outdoor areas are truly exceptional.


Patios
Entering the patio is the first step toward appreciating your immediate yard and landscape spaces. We can build a custom patio to complement the architecture of your home, so accessing your backyard is always a pleasure. Because it will be the focal point of your outdoor space, we devote careful attention to its design and structure from the outset. We aim to exceed your expectations with the paver patio project.

The initial phase consists of in-depth conversations with our seasoned design consultant. They will take the time to learn about your interests, needs, and budget before recommending and advising on how to construct patios that correspond to your hobbies and preferences.

Patios are highly frequented spaces as they are a transitional space between the indoors and outdoors of a property. It's why we recommend the use of concrete, brick, and natural stone pavers. These products come in all shapes and sizes, and we will help with paver design ideas and patterns. We can also incorporate seating walls and fire features as required.


Outdoor Kitchens
In addition to various features and installations, we also plan and build outstanding outdoor kitchens. This is integral to most outdoor living spaces. It is a practical addition that allows you to cook outside and spend quality time with loved ones. Installations can be as sophisticated and intricate or as simple as desired.

Modern kitchen appliances, such as barbecues and grills, refrigerators, and ovens, are popular inclusions for some clients, and we design the kitchen to fit them. Our specialists meticulously prepare every component, focusing on design considerations such as:
Counters' layout
Storage requirements
Stove and grill placement
Appliance placement
Fuel type
Fire feature installation
Outdoor lighting
Kitchen Island installation
Seating areas
Other
For additional details about our pavers, patios, and outdoor kitchens in Ledgewood, NJ, get in touch with JB'S Landscaping via this Contact Us form or call us at 908-496-4755 for a free estimate, and we will get back to your shortly.